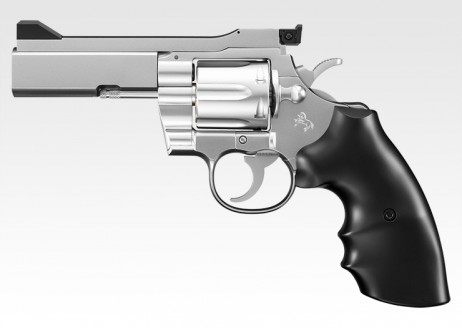 View larger
TOKYO MARUI - Colt Python .357 Magnum PPC Custom4 inch Stainless Model (BB AIR REVOLVER 10+)
TM-BAR-04
Manufacturer: Tokyo Marui
Condition: New
Availability: Pre Order [?] Warning: Last items in stock!
Availability date: 06/01/2018
BB Air Revolver Series Colt Python .357 Magnum PPC Custom4 inch Stainless Model (spring / air cocking with removable cartridges)
■ Hop Up System
■ Single Action Only
More info
Data sheet
Accessories
Comments
PPC Custom : The typical PPC Custom huge front & rear sights and the fat barrel give this Colt Python a heavy feeling.


No Power Source : This "BB Air Revolver" model does not require any power source. It is armed by cocking the hammer and pull the trigger for every shots. It works as a springer but the cocking of the hammer is very light


Real Revolver Action : The "BB Air Revolver" Colt Python is loaded with cartridges filled with 1 BB each and can contain 6 cartridges for 6 shots just like the real thing.


Hop Up System : By giving the BB a hop rotation, the "BB Air Revolver" Colt Python can shoot straight and far with a very low velocity. (this model can be purchased by kids over 10 years old in Japan regarding the Japanese Law)


Safety : The action on the safety lock at the base of the trigger locks the trigger and the hammer.


Adjustable Rear Sight : The rear sight can be adjusted up & down and left to right with a screw driver.


6 Cartridges Included : 6 cartridges that can be filled with 1 BB each are included in the package. Spare ones are on sale.

ATTENTION : THIS REPLICA IS A LOW VELOCITY SPRING ACTION AIRSOFTGUN.
Contents
- 1 Tokyo Marui BB Air Revolver Colt Python PPC Custom 4inch Stainless Model
- 6 Cartridges
- 1 Safety cap
- 1 User manual
- 1 Bag of 100 0.12g BBs
- etc
| | |
| --- | --- |
| Type | Revolver |
| Caliber | 6mm BB (0.12g) |
| Shooting system | Spring (air cocking) / Manual reloading |
| Length | 241 mm |
| Barrel length | 84 mm |
| Weight | 392 g |
| Capacity | 6 bbs |
| Frame / receiver | ABS |
| Power (velocity) | Regarding the Japanese policy about airsoft guns, the muzzle energy is under 0.98 joules. Manufacturers do not provide exact velocity information. |
No customer comments for the moment.