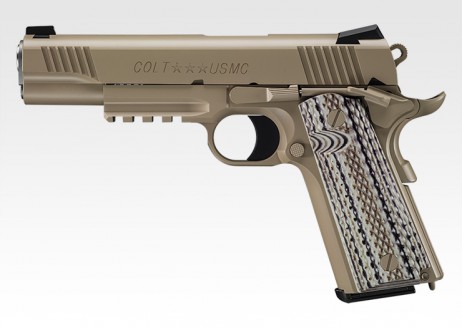 View larger
TOKYO MARUI - M45A1 CQB Pistol (GBB)
TM-GP-60
Manufacturer: Tokyo Marui
Condition: New
Availability: In stock [?] Warning: Last items in stock!
Availability date:
Gas BlowBack (GBB) Handgun M45A1 CQB Pistol
■ Adjustable Hop Up
■ Semi Auto
More info
Data sheet
Accessories
Comments
● Desert Battle Color : Colors matching the real colors used on the firearm that is used in late Middle East operations.

● Parting Lines Finish:The parting lines resulting from molding are carefully sanded by hand for a nice smooth finish.

● Novak Officially Licensed Rear Sight:Replicating the widely used Novak tactical sight.

● G10 Type Grip:The very typical grip from the M45A1 is replicated using a special printing system.

● Under Rail : The under rail is molded into the frame and provides a 20mm picatinny rail in order to install a very large number of accessories.

● Upgraded Internals & Mechanism:The blowback engine has been redesigned and provides a stronger recoil with the same amount of gas as the already existing Marui 1911 GBB. The new short recoil system added to the M45A1 gives this new gun a very stable cycle.

● Metal Notch Spacer:A metal piece inside the ABS slide will catch the slide stop when magazine empty. The ABS slide will not be wore off by a heavy use of the slide stop.

● Diecast Magazine:The 27 rounds magazine is is made out of diecast metal and resist to low temperatures. (the M45A1 can use all previous 1911 series spare magazines)

ATTENTION : THIS REPLICA IS MADE TO USE HFC134A GAS. IT IS RECOMMENDED TO USE HFC134A GAS OR A SIMILAR GAS IN ORDER TO NOT DAMAGE THE REPLICA.
Contents
- 1 Tokyo Marui M45A1 CQB Pistol
- 1 Spare Magazine (27 bbs)
- 1 Safety cap
- 1 User manual
- 1 Cleaning rod
- etc

※ Impulse101 recommends the use of HFC134A gas or a similar gas.
| | |
| --- | --- |
| Type | Automatic handgun |
| Caliber | 6mm BB |
| Shooting system | Gas / HFC134a |
| Length | 222 mm |
| Barrel length | 113 mm |
| Weight | 823 g (empty mag included) |
| Capacity | 27 + 1 bbs |
| Frame / receiver | ABS |
| Slide | ABS |
| Power (velocity) | Regarding the Japanese policy about airsoft guns, the muzzle energy is under 0.98 joules. Manufacturers do not provide exact velocity information. |