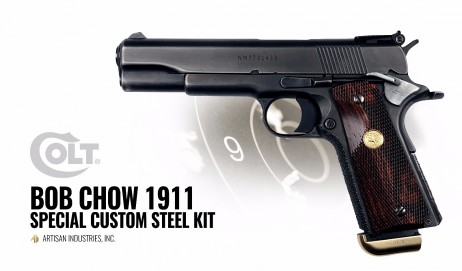 View larger
Artisan Industries - BOB CHOW 1911 Special Custom Steel Conversion Kit
ART-BOB
Manufacturer: Artisan Industries
Condition: New
Availability: This product is no longer in stock [?] Warning: Last items in stock!
Availability date:
Artisan Industries - BOB CHOW 1911 Special Custom Steel Conversion Kit

Full steel hand made conversion kit for Tokyo Marui M45A1 only (this kit will not fit other M1911 series GBB)
More info
Comments
Conversion kit includes :

SLIDE (S45C STEEL)
FRAME (S45C STEEL)
FRONT (S45C STEEL)
REAR SIGHT (AL 6061)
OUTER BARREL (S45C STEEL)
BARREL BUSHING (S45C STEEL)
HAMMER (S45C STEEL)
AMBIDEXTROUS THUMB SAFETY (S45C STEEL)
TRIGGER (S45C STEEL)
GRIP SAFETY (S45C STEEL)
MAINSPRING HOUSING (S45C STEEL)
MAGAZINE CATCH (S45C STEEL)
SLIDE STOP (S45C STEEL)
PLUNGER (S45C STEEL)
PLUNGER TUBE (S45C STEEL)
RECOIL SPRING PLUG (S45C STEEL)
INNER CHASSIS(AL 6061)
EXTRACTOR (S45C STEEL)
GRIP SCREW (S45C STEEL)
GRIP SCREW BUSHING MAGAZINE GOLD PLATE (BRASS)
MAGAZINE INPUT ADAPTER (BRASS)
CLIPDRAW BELT CLIP REAL GUN TYPE -Marking- (STEEL)
MEDAL THUMB Heretts grip CUSTOM GRIPS (COCOBOLO WOOD)
HOUSING PIN (S45C STEEL)
CYLINDER BLOCK SCREW (S45C STEEL)

Model = BOB CHOW 1911 Special custom steel kit
Manufacturer = ARTISAN INDUSTRIES
Color = SHABBY CUSTOM
Material = S45c Real Forging steel receiver
TYPE = Only "TOKYO MARUI M45A1(New TYPE)"
Country = MADE IN KOREA

※TOKYO MARUI M45A1 GBB NOT INCLUDED
※※THIS ITEM IS A CONVERSION KIT, THE USER WILL NEED TO PURCHASE THE TOKYO MARUI M45A1 IN ORDER TO ASSEMBLE THIS KIT
※※※NO SPARE MAGAZINE INCLUDED


No customer comments for the moment.