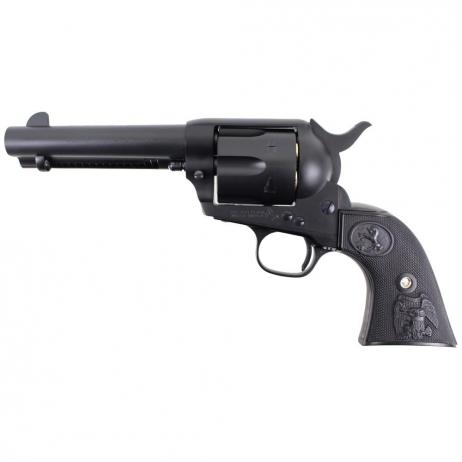 View larger
TANAKA WORKS - Colt Single Action Army SAA 2nd Generation 4-¾ inch Black (PEGASAS Ⅱ Gas Gun Series)
TA-GR-SAAP2001
Manufacturer: Tanaka Works
Condition: New
Availability: in stock [?] Warning: Last items in stock!
Availability date:
TANAKA WORKS - Colt Single Action Army SAA 2nd Generation 4-¾ inch Black (PEGASAS Ⅱ Gas Gun Series)
Capacity : 15 shots + 10 shots (in sub magazine)
Main material : ABS resin + zinc die-cast
Specifications : Pegasus type gas gun
More info
Data sheet
Comments
150 years ago, in 1873, a great model in handgun history was produced. The Colt Single Action Army (SAA) is a gun that symbolizes the American frontier era. Although there have been several discontinued production and specification changes, the 45 Long Colt caliber is nicknamed "Peacemaker" and is a long-lived gun that is currently sold to the private sector by Colt. is. The second generation refers to the period from the resumption of production in 1956 to 1974 after the temporary suspension of production during World War II. Compared to the first generation black gunpowder model of the earliest type, the base pin for fixing the cylinder is screwed from the front of the frame in the first generation, while screws and nuts from the left and right sides of the frame. There are also differences in appearance, such as the fact that it is fixed and the ejector rod head part is circular and half-moon shaped. The above-mentioned second generation model, which was easy to obtain, was mainly used in post-war westerns. Western films became hits, and TV westerns were also actively produced. It was imported to Japan and aired, and it took the world by storm. In recent years, characters who can master SAA have appeared in video games, the main character in a movie with a large collection of action stars uses a custom SAA, and an open-world action game with a western theme has become a hit. increase.
This SAA was the first release of Tanaka's airsoft gun, PEGASAS (Pegasus) system type revolver, which was released in 1999 and continues to this day. At that time, revolver-type airsoft guns were mainly cart-type gas guns, but the Pegasus system moved the gas tank and magazine mechanism into the cylinder and integrated them into the cylinder, resulting in a realistic internal structure and a delicate trigger feel that could not be achieved with conventional cart-type gas guns. I succeeded in reproducing the ring.

In 2005, it underwent a minor change as a detachable cylinder model, and like a real gun, the cylinder is detachable, making it more realistic and easier to charge gas, making it easier to maintain.

With the spread of this Pegasus type SAA, "cowboy shooting" (shooting match in western style) using airsoft guns and "fast draw" (using SAA, how quickly the gun is pulled out of the holster and how to shoot time trial shooting) ) and other competitions will develop.

Among them, the problem of Pegasus type SAA was also exposed. In the above competitions, the burden that cannot be assumed for normal airsoft guns, such as speed-oriented unsnap shots and double-handed shooting, was imposed on various parts, so users responded by customizing each. As repair requests came to us, it became clear that the SAA was a heavy-duty weapon compared to other automatic pistols and double-action revolvers.

From around 2018, in order to respond to that, SAA refinement plan will be raised within the company. It was designed based on the development concept of "high durability, more realistic, and equipped with performance that can be used in survival games and fast draw".

It was named "PEGASAS Ⅱ" which hit the valve inside the cylinder through the base pin that penetrated the cylinder like a real gun to fix the cylinder, which was a concern when it was a detachable cylinder. adopted a new system. (Patented) It also has a variable HOP mechanism so that it can be used in survival games. In addition, we adopted an inner magazine method for the number of bullets, which is a bottleneck in revolvers, like other Pegasus models. Furthermore, 10 reserves are possible in the ejector tube, and a total of 25 shots can be fired. In addition, cushion parts and reinforcement parts have been added to the parts that are internally loaded, and each part has been made realistic.

In addition, some parts (hammer, trigger, bolt, back strap, grip, etc.) are designed to be used for detachable cylinder models, without failing to consider existing users.

SAA, which pursues the ideal to the ultimate, is now available as an airsoft gun after 150 years.
| | |
| --- | --- |
| Type | Revolver |
| Caliber | 6mm BB |
| Shooting system | Gas / HFC134a |
| Length | 260 mm |
| Weight | 820 g |
| Capacity | 15 + 10 bbs |
| Frame / receiver | ABS |
| Power (velocity) | Regarding the Japanese policy about airsoft guns, the muzzle energy is under 0.98 joules. Manufacturers do not provide exact velocity information. |
No customer comments for the moment.