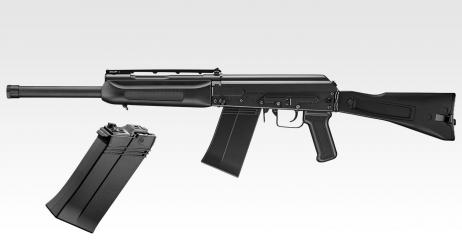 View larger
TOKYO MARUI - SAIGA-12K with 1 Spare Magazine Set (Gas Blowback Shotgun Series)
TM-GBBS-01MAGSET1
Manufacturer: Tokyo Marui
Condition: New
Availability: This product is no longer in stock [?] Warning: Last items in stock!
Availability date:
Gas Blowback Shotgun - SAIGA-12K by Tokyo Marui with 1 extra spare magazine
■ Trishot : 3bbs per shot
■ Fixed Hop Up
■ Semi Auto

> REASSEMBLY GUIDE

More info
Data sheet
Accessories
Comments
Powerful Blowback : Equipped with the SAIGA exclusive blowback engine that uses a large piston with a diameter of 19mm. The bolt operates in conjunction with the shot so that you can enjoy a strong recoil shock.


Realistic Gimmicks : It faithfully reproduces the same functions as the real SAIGA, such as loading the first bullet by operating the bolt handle and stopping the forward movement of the bolt when the magazine runs out of BBs. In addition, the takedown (normal disassembly for maintenance) can be performed almost like the real thing.


Auto stop system : Equipped with an auto-stop system that detects when the magazine is empty and stops firing. Furthermore, by turning off the auto stop cancel switch at the top of the magazine, you can enjoy the blank firing mode without any BBs in the magazine.


Pursuing Appearance Reproducibility : By reflecting the data that were measured the real SAIGA, the reproducibility of each part shape is improved. In addition, the receiver cover and selector lever are made of stamped steel just like the real thing.


Adjustable Front Sights : The front sight can be adjusted up and down with a special adjustment tool. In addition, various optical sights can be mounted by attaching the separately sold. "Side Lock Mount Rail for AK74" to the side rail equipped on the receiver.


Box Type Magazine : Comes with a resin case magazine that holds 45 BBs and a temperature measurement seal on the internal gas tank surface.


ATTENTION : THIS REPLICA IS MADE TO USE HFC134A GAS. IT IS RECOMMENDED TO USE HFC134A GAS OR A SIMILAR GAS IN ORDER TO NOT DAMAGE THE REPLICA.
Contents :
1 Tokyo Marui SAIGA-12K GBBR
1 Standard magazine (45rds / 15 shots capacity) + 1 extra spare magazine
1 Front sight adjustment tool
1 Safety cap
1 User manual
1 BBs tube loader
1 Cleaning rod
| | |
| --- | --- |
| Type | Shotgun |
| Caliber | 6mm BB |
| Shooting system | Gas / HFC134a |
| Length | *** mm |
| Barrel length | *** mm |
| Weight | **** g (empty magazine included) |
| Capacity | 54 bbs (18 shots) |
| Frame / receiver | Metal |
| Power (velocity) | Regarding the Japanese policy about airsoft guns, the muzzle energy is under 0.98 joules. Manufacturers do not provide exact velocity information. |
No customer comments for the moment.