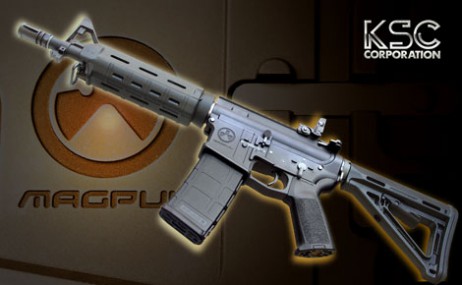 View larger
KSC - M4 ERG Magpul PTS CQB
KS-M4ERG
Manufacturer: KSC
Condition: New
Availability: This product is no longer in stock [?] Warning: Last items in stock!
Availability date:
Inside :
1 KSC M4 ERG Magpul PTS CQB
1 Pmag (30-60 rounds)
1 Pmag protection clip
1 User manual
More info
Data sheet
Accessories
Comments
Powerful Blowback : As the ERG (Electric Recoil Gun) means, this KSC M4 have an impressing blowback for an AEG. Add a crisp and powerful sound, you will have nice a shooting feeling !
Bolt Stop : As the real M4 or an GBB-R, it will be impossible to shoot when the magazine will be empty. A system will prevent the replica to blank fire and you will have to push the bolt release button after a new mag to shoot again. Realism at it best !
Realistic Gimmicks : Charging handle let you accessing at the toothed hop-up dial; pull it when the mag is empty, the fake bolt will stay backward until you push the bolt release button. Pull it when the mag is not empty and stay push on the forward assist to access the hop-up for a quick setting, release it and the fake bolt will go forward. Just like the real deal !
Full Metal : Body/upper & receiver, buffer tube and outer barrel are aluminium for maximum realism.
Official Magpul PTS Accessories : Built in collaboration with PTS, this M4 ERG have a lot of official Magpul PTS accessories :

Body lower with fines markings
Pmag
MOE Pistol Grip
MOE Handguard
MOE Stock
MBUS2 Rear Sight
Magpul Pmag : Having a realistic look and a protection clip like the real, it let you choose between 30 or 60 rounds, as simply as a button under the shell (disassembling of the mag is possible in seconds without any tools). It also have an extensible rod which push all the BBs inside the replica, every BBs in the mag are fired !
Classic Mag Compatible : If you own some M4 mags (STANAG, Pmag PTS, etc…) don't worry; they are also compatible ! The bolt stop fonction will not works anymore, but you will be able to use high capacity mags if you need to.
And more…
■ 10.3" CQB Barrel ■ Works on 9.6V battery (not include) ■ Toothed Hop-Up Dial for precise setting ■ Sling mount on buffer tube
| | |
| --- | --- |
| Type | Assault rifle |
| Caliber | 6mm BB |
| Shooting system | Electric / Up to 9.6V battery |
| Length | 689mm / 769mm |
| Weight | 3060g |
| Capacity | 30/60 |
| Gearbox (mechabox) | Special V2 Gearbox |
| Frame / receiver | Metal |
| Power (velocity) | Regarding the Japanese policy about airsoft guns, the muzzle energy is under 0.98 joules. Manufacturers do not provide exact velocity information. |