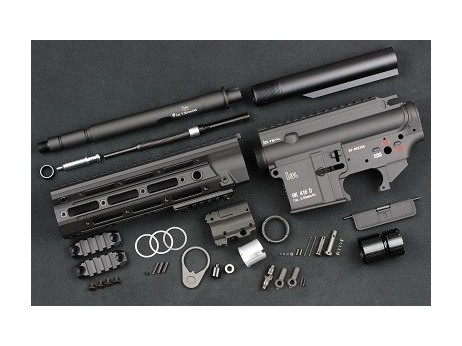 Voir en plus grand
HK416D Conversion Kit for Tokyo Marui M4 MWS GBBR - RAHG MODEL
HK416-CK-RAHG
État: Neuf
Disponibilité : disponible sur commande [?] Attention : dernières pièces disponibles !
Date de disponibilité :
HK416D Conversion Kit for Tokyo Marui M4 MWS GBBR - RAHG MODEL

The conversion kit includes :
HK416D RECEIVER SET
REALISTIC HANDGUARD with MILSPEC RAIL SCREW ※RAHG handguard
REALISTIC OUTER BARREL(14mm CCW)
REALISTIC GAS BLOCK with GAS TUBE SYSTEM
REALISTIC STOCK PIPE
REALISTIC CTR STOCK
HK416D AMBI SELECTOR
HK416D DUST COVER
HK416D SET PIN
RECOIL BUFFER GUIDE
SWIVEL END PLATE

※ALL MARKINGS ARE REALISTIC

MSRP : 183,000 yen (JPY)
Accessoires
Avis
Aucun commentaire client pour le moment.