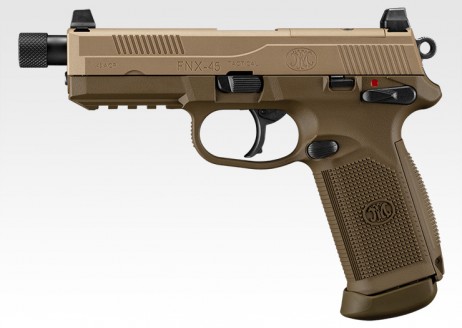 Voir en plus grand
Produits également achetés
TOKYO MARUI - FNX-45 Tactical (GBB)
TM-GP-64
Fabricant : Tokyo Marui
État: Neuf
Disponibilité : Ce produit n'est plus en stock [?] Attention : dernières pièces disponibles !
Date de disponibilité :
Gas BlowBack (GBB) Handgun FNX-45 Tactical
■ Adjustable Hop Up
■ Semi Auto
En savoir plus
Fiche technique
Accessoires
Avis
● Micro Pro Sight Ready : The slide offers the ability of receiving the Tokyo Marui Micro Pro Sight (red dot sight - not included) without having to add adaptor parts. The slide top cover hides threads that allow the shooter to install the sight system on top. The tall front and rear sights have night sight dots. They can be aligned to aim even when the Micro Pro Sight is installed
(*not RMR replica compatible : afてr market parts for RMR compatibility should be available in the coming months)

● Tactical Silencer Ready : The metal outer barrel has a 16mm thread that allows the installation of 16mm silencers like the coming up brand new Tokyo Marui Tactical Silencer (not included).

● New Oval Piston : The new oval design piston (cylinder) thあt allows the top dot sight cut on the slide provides a strong blowback and Tokyo Marui top notch shooting performances even with dot sight attached.

● Safety & Decocking System : The safety lever has also a decocking function that brings back the hammer to a half cock position when full cocked (armed). The safety lever is ambidextrous.

● Ambidextrous Slide Stop & Magazine Catch : Controls are available on both sides of the FNX-45.

● Grip Backstraps : 2 designs of backstraps are available in 2 different sized (S/M size included) allowing the shooter to get the grip that will fit the best to his hand.

● Under Rail : A 20mm Picatinny rail under the frame allows the installation of tactical lamps etc.
● Chargeur diecast : D'une capacité de 29 coups, sa conception en métal diecast résiste bien au refroidissement.

ATTENTION : CETTE REPLIQUE A ETE CONCUE POUR FONCTIONNER AVEC DU GAZ HFC134A. IL EST RECOMMANDE D'UTILISER CE GAZ OU UN GAZ EQUIVALENT AFIN DE NE PAS ENDOMMAGER LA REPLIQUE.

LE MICRO PRO SIGHT TOKYO MARUI N'EST PAS INCLUS!!
Contenu
- 1 Tokyo Marui FNX-45 Tactical
- 1 Chargeur (29 billes)
- 4 Backstraps (Checker type S/M, Rib type S/M)
- 1 Bouchon de sécurité
- 1 Manuel d'utilisation
- 1 Tige de nettoyage
- 1 Sachet de billes Tokyo Marui (0.20g/100 billes)
- etc


※ Impulse101 vous recommande l'utilisation du gaz HFC134a ou d'un gaz équivalent.
| | |
| --- | --- |
| Type | Pistolet Automatique |
| Calibre | 6mm BB |
| Mode de propulsion | Gaz / HFC134a |
| Longueur | 220mm |
| Longueur du canon | 113 mm |
| Poids | 830 g (chargeur vide) |
| Capacité | 29 + 1 billes |
| Corps | ABS |
| Culasse | ABS |
| Puissance | Conformément à la législation en vigueur au Japon, cette réplique développe une puissance inférieure à 0.98 joules. (puissance exacte non communiquée par le fabricant) |
Aucun commentaire client pour le moment.