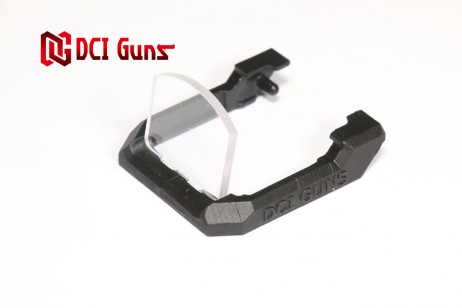 View larger
DCI GUNS - Lens Protection for RMR Type Dot Sight
DCI-OPT02
Manufacturer: DCI GUNS
Condition: New
Availability: This product is no longer in stock [?] Warning: Last items in stock!
Availability date:
DISCONTINUED (not produced anymore)

> > > New version (V2) available HERE

DCI GUNS - Lens Protection for RMR Type Dot Sight
This RMR accessory will protect your RMR from BB impacts.
Easy to install as it does not need any tool.

PLEASE READ BEFORE PLACING AN ORDER
Maker delivers the item within 1 or 2 weeks depending on stocks and production schedule.
Impulse101 does not stock this item. Please be aware about the delivery time before purchasing the DCI GUNS items.
Thank you for your understanding.
【Resistant】
This protection is using a 2mm thick polycarbonate lens. It will resist direct 0.20g BB shots up to 94m/s.
The base is made from ABS plastic which will also resist to BB shots.

【CNC cut lens】
The polycabonate lens is cut out using a CNC machine for a clearer finish (laser cut may leave burn traces)
【Easy installation】
It can be installed without tools.

【Light weight】
Its plastic construction leads to a very light weight in order not to infere with the gun's slide recoil movement.

【Design that fits the RMR dot sight】
Designed to be close to the RMR design.
No customer comments for the moment.