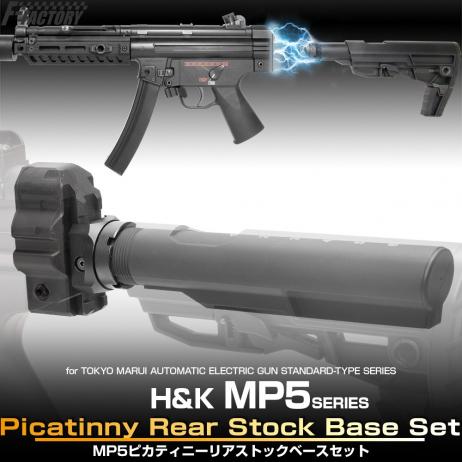 View larger
LAYLAX/FIRST FACTORY - Tokyo Marui MP5 Picatinny Rear Stock Base Set
LA-FF-189
Manufacturer: Laylax / First Factory
Condition: New
Availability: PREORDER [?] Warning: Last items in stock!
Availability date: 12/31/2020
LAYLAX/FIRST FACTORY - Tokyo Marui MP5 Picatinny Rear Stock Base Set
More info
Accessories
Comments
MP5 Picatinny Stock Base Buffer Tube Adapter Set

● 20mm Picatinny Stock Base
● Unlimited customization options with the M4 buffer tube conversion
●Freely adjust the height for the best sight lines when aiming!

Designed to make your favorite MP5 even more compact, lightweight and enables even more interfacing options. The LayLax picatinny 20mm stock base brings the highly customizable attachment 20mm platform to the rear of the gun for a more modern look with a variety of 1913 style stocks and braces. Attach our rail buffer tube adapter (sold separately) for even more stock options to attach your favorite M4 stocks. Fully adjustable 20mm base height for the best sight lines regardless of your eye protection!

■ Included:
・Picatinny Stock Base ×1
・20mm Buffer Tube + Adapter ×1

■ Compatibility:
Tokyo Marui AEG Series:
・H&K MP5 A5 ・H&K MP5 J
・H&K MP5 SD6
・H&K MP5 R.A.S.
・H&K MP5 A5 HC (High Cycle)

■ Material: Aluminum Alloy


No customer comments for the moment.