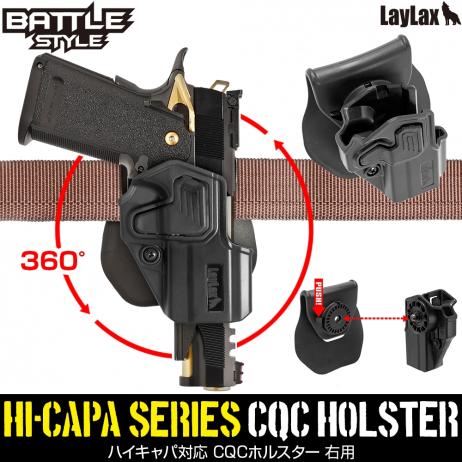 View larger
Laylax/Battle Style - HiCapa Series CQC Holster
LA-BS-11
Manufacturer: Laylax / Battle Style
Condition: New
Availability: PREORDER [?] Warning: Last items in stock!
Availability date: 08/31/2020
Laylax/Battle Style - HiCapa Series CQC Holster

Black Color
Right handed holster
More info
Comments
● Quick draw holster with superior retention
● Smooth and easy draw
● The paddle and holster can be detached with one simple button.
● 360 degree adjustability with 24 different positions!
● Adjustable retention screw to fine tune your fit of your handgun.
● Military grade polymer for ultimate durability and strength.
● Can be equipped with a variety of accessory options.

・Easily adjust the retention strength with the adjustment screw for the perfect fit for your individual handgun.
・The rounded paddle forms to your waistline for a better fit with your belt.
・Firm and positive "click" when reinserting your handgun.
・Quickly and smoothly draw your handgun with a touch of the release button.
・Freely change the angle of your holster to accommodate for different draw styles and body types, a full 360 degrees of adjustable freedom and 24 different secure positions!


■Included:
・Holster ×1
・Paddle ×1

■Color: Black

■Compatibility:
・HiCapa 5.1 D.O.R
・HiCapa Xtreme
・HiCapa 5.1 Gold Match
・HiCapa 5.1 Stainless Model
・HiCapa 5.1 Government Model
・HiCapa 4.3 Tactical Model
・HiCapa Custom Dual Stainless

■Material: Polymer

■Compatible Accessories:
・MOLLE Attachment
・Paddle
・Offset Paddle
・Belt Loops

■CAUTION:
※The picture shown is a product sample, the actual color and specification may vary.
※Gun and other parts sold separately.
※Please be aware that not all brands of HiCapa handguns will fit perfectly. For a better fit, please let your handgun sit in the holster for a few days to allow the material to stretch for a better fit.
No customer comments for the moment.