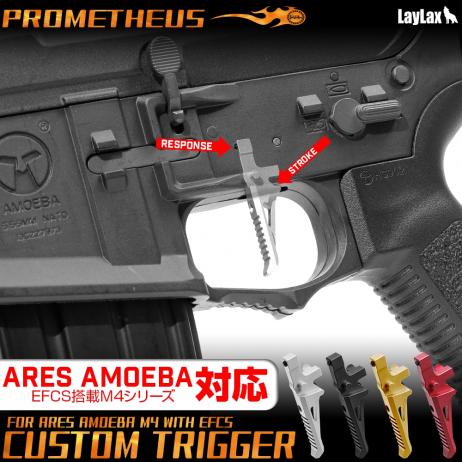 View larger
LAYLAX/PROMETHEUS - Custom Adjustable Trigger for ARES AMOEBA M4 with EFCS
LA-PR-197
Manufacturer: Laylax / Prometheus
Condition: New
Availability: available upon order [?] Warning: Last items in stock!
Availability date:
LAYLAX/PROMETHEUS - Custom Adjustable Trigger for ARES AMOEBA M4 with EFCS
More info
Comments
●Fully adjustable trigger pull length as well as trigger response
●Serrated straight trigger for easier grip and rapid semi-auto firing.

Built for the Ares Amoeba EFCS series of rifles, this new custom trigger is highly adjustable and will improve your trigger response significantly. Due to two independently placed grub screws, you can adjust both the trigger pull length or response, as well as the trigger's stroke/angle. The stroke can be adjusted from outside of the gearbox at anytime, while the trigger pull adjustment is made when installing the trigger inside of the gearbox. This makes for a much easier method of tuning your rifle's trigger to your taste. Additionally the serrated straight trigger pad allows for maximum grip and rapid semi-auto firing.

■Included: ARES EFCS custom trigger x1

■Compatible Models: ・ARES AMOEBA EFCS M4 Series (※M45 excluded)

■Material: Aluminum Alloy

■Color: Black / Silver

(Gold & Crimson Red are limited edition to LAYLAX official website, availabel for Japan market only)

■Adjusting:
●Grub screw A: Adjusts the trigger length/pull. (Response)
●Grub screw B: Adjusts the trigger stroke/angle. (Stroke)

1. In order to install and adjust your response and stroke lengths, first loosen grub screw A, and then install it into the gearbox. Gradually adjust grub screw A to desired trigger response between grub screw A and the trigger switch.
CAUTION: Before fully reassembling the gearbox, please check to see if the safety mechanism engages, if you shorten the trigger response too much, the safety will cease to function.

2. After the gearbox is reassembled and placed back into the receiver of your Ares Amoeba, adjust grub screw B to adjust the angle/stroke of the trigger. There is a small screw hole that be accessed using an allen key from the outside of the gearbox while the gearbox is installed.
CAUTION: Over tightening grub screw B can prevent the trigger from engaging or releasing the trigger switch fully.

※A L-shaped allen wrench (1.27mm) is required to adjust the trigger stroke from the outside of the gearbox.
※It is advised that you use medium-strength screw lock to keep the adjustment screws from coming loose.
※You can utilize our shim set for additional horizontal trigger placement and to reduce play of the trigger.

■CAUTION:
※The picture shown is a product sample, the actual color and specification may vary.
※Gun and other parts sold separately.
No customer comments for the moment.