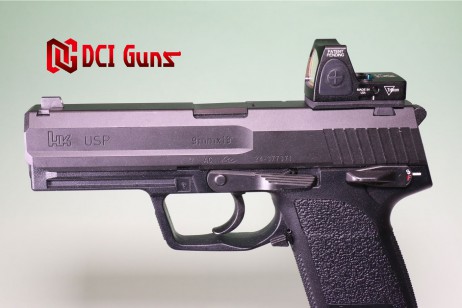 View larger
DCI GUNS - RMR Dot Sight Mount V2.0 for Tokyo Marui USP (GBB)
DCI-HG-RMR16
Manufacturer: DCI GUNS
Condition: New
Availability: in stock [?] Warning: Last items in stock!
Availability date:
DCI GUNS - RMR Dot Sight Mount V2.0 for Tokyo Marui USP (GBB)
This mount accessory allows the installation of RMR type dot sight on the top of the slide.
Easy to set as a replacement part of the original sights of the gun.

PLEASE READ BEFORE PLACING AN ORDER
Maker delivers the item within 1 or 2 weeks depending on stocks and production schedule.
Impulse101 does not stock this item. Please be aware about the delivery time before purchasing the DCI GUNS items.
Thank you for your understanding.
More info
Accessories
Comments
【Material & Manufacturing Method】

> Material
Polyamide 12 (PA12/nylon) is a plastic material that is a very sturdy polymer used in automobile industry.

> Manufacturing method
DCI GUNS parts are made in a 3d printing machine using the SLS technology (Selective Laser Sintering). The SLS printing method using PA12 results in very resistant parts and nice finish. The parts are very light weight and do not interfere with the blowback recoil of GBB guns.


【Metal Inserts】 (except for HiCapa5.1 or 4.3 and others)

This accessory is using metal inserts on the screw thread parts on both sides (RMR side / slide side) for a very easy setting and durable screw threads.

【Shooting Test】

Durability test and shooting test have been done during the development period of this accessory mount.

※No toygun or RMR dot sight included

INSTALLATION VIDEO AVAILABLE



ATTENTION PLEASE
・When setting the dot sight always use the M3.0 screws that are included with the mount. The use of the RMR dot sight M3.6 screws may result in the impossibility to set the dot sight or damage the mount and/or the replica gun.
・This item is dedicated to users with custom / toygun disassembly knowledge.
・Be aware that it may be necessary to do some modification work in order to install this item.
・Do not screw too tight.
・This is a 3D printed item. Some print marks (level) may be visible.
No customer comments for the moment.