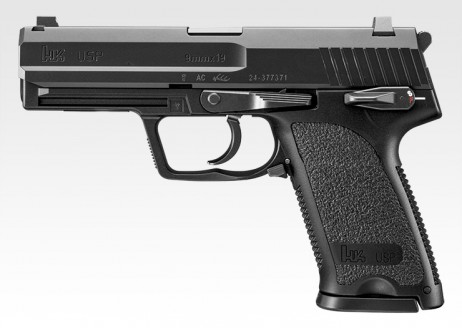 View larger
TOKYO MARUI - H&K USP (GBB)
TM-GP-59
Manufacturer: Tokyo Marui
Condition: New
Availability: Available upon order [?] Warning: Last items in stock!
Availability date:
Gas BlowBack (GBB) Handgun H&K USP
■ Adjustable Hop Up
■ Semi Auto
More info
Data sheet
Accessories
Comments
● Cylinder : The 15mm cylinder allows a powerful blowback recoil and stable shooting.

● Safety & Decocking System : The safety lever is functional and allows the operator to decock the gun.

● Single & Double Action : The USP can shoot in single action (manual cocking of the hammer by arming the slide and pull the trigger) or double action (pulling the trigger cocks the hammer that will "Fire" the first shot when automatically released).

● Metal Extractor : The extractor is replicated as a single part (not molded into the slide) and is made from metal material.

● Under Mount Rail : The original USP rail is specific to HK guns. A 20mm Picatinny rail spare part is included with the gun and allows the installation of accessories such as tactical lights.

● Ambidextrous Magazine Catch Lever : The magazine catch lever can be operted from both the sides of the USP Compact.

● Diecast Magazine : The 25rds spare magazine is made out of diecast metal and resist to low temperatures. (USP Compact magazine does not fit this full sized version of the USP)

ATTENTION : THIS REPLICA IS MADE TO USE HFC134A GAS. IT IS RECOMMENDED TO USE HFC134A GAS OR A SIMILAR GAS IN ORDER TO NOT DAMAGE THE REPLICA.
Contents
- 1 Tokyo Marui USP (Full Size)
- 1 Spare magazine (25 bbs)
- 1 Under Mount Rail in 2 parts L/R (setting screws included)
- 1 BTR allen key (2.5mm)
- 1 Safety cap
- 1 User manual
- 1 Cleaning rod
- 1 Tokyo Marui BBs bag (0.20g/100 bbs)
- etc


※ Impulse101 recommends the use of HFC134A gas or a similar gas.
| | |
| --- | --- |
| Type | Automatic handgun |
| Caliber | 6mm BB |
| Shooting system | Gas / HFC134a |
| Length | 195 mm |
| Barrel length | 95 mm |
| Weight | 720 g (empty magazine) |
| Capacity | 25 + 1 bbs |
| Frame / receiver | ABS |
| Slide | ABS slide + Aluminum extractor |
| Power (velocity) | Regarding the Japanese policy about airsoft guns, the muzzle energy is under 0.98 joules. Manufacturers do not provide exact velocity information. |