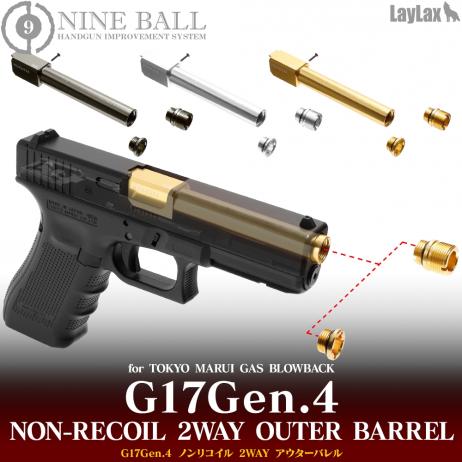 View larger
LAYLAX/NINE BALL - Glock 17 Gen 4 "2 Way" Non-Recoiling Outer Barrel
LA-NB-300
Manufacturer: Laylax / Nine Ball
Condition: New
Availability: available upon order [?] Warning: Last items in stock!
Availability date:
LAYLAX/NINE BALL - Glock 17 Gen 4 "2 Way" Non-Recoiling Outer Barrel
More info
Accessories
Comments
Glock 17 "2 Way Fixed" Non-Recoiling Outer Barrel

● 14mm CCW Threaded Muzzle Cap.
● Lightweight, precision machined aluminum.

Made for the Tokyo Marui Glock 17 4th gen gas blowback series. The combination of set grub screws and high strength aluminum alloy outer barrel make for a highly stable shooting platform. Choose between a non-threaded outer barrel cap for normal use, or a 14mm CCW threaded muzzle cap for infinite attachments. The outer barrel is also negatively threaded so 11mm positive threaded attachments can slide right in!

"Non-recoiling" - What does it mean? The non-recoiling outer barrel sets the inner barrel using 2 grub screws in order to fix the outer and inner barrels together. This creates a stable firing platform and reducing all movement between the outer barrel and slide. Consistent performance, stable accuracy and velocity.

■ Included:
・Metal Outer Barrel ×1
・Normal Muzzle Cap ×1
・SAS 14mm CCW Threaded Cap ×1
・Hex Grub Screw ×1

■ Compatibility: Tokyo Marui GBB Series ・G17 4th Generation

■ Material: Aluminum Alloy

■ Colors:
・Gun Metal
・Silver
・Gold

■ Caution:
※Thread lock adhesive is highly recommended to secure the grub screws on the fixed outer barrel.
※The picture shown is a product sample, the actual color and specification may vary.
※Gun and equipment sold separately.

No customer comments for the moment.