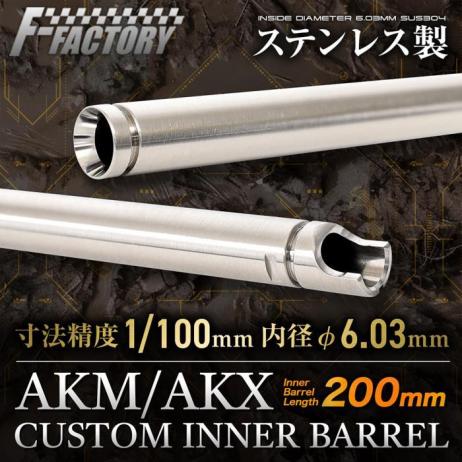 View larger
LAYLAX/FIRST FACTORY - Tokyo Marui AKM/AKX Custom 6.03 Inner Barrel 200mm
LA-FF-198
Manufacturer: Laylax / First Factory
Condition: New
Availability: available upon order [?] Warning: Last items in stock!
Availability date:
LAYLAX/FIRST FACTORY - Tokyo Marui AKM/AKX Custom 6.03 Inner Barrel 200mm
● Inner diameter with precision tolerance of φ6.03±0.01mm
More info
Accessories
Comments
This stainless steel inner barrel is designed to fit Tokyo Marui gas blowback machine guns, AKM, and AKX models. With an inner diameter of φ6.03mm and a high precision tolerance of ±0.01mm, it minimizes BB deviation inside the barrel, contributing to stable muzzle velocity.
※Make sure to clean the barrel interior before use.
※Never use BBs that have been fired or dropped on the ground. The tight inner diameter of the barrel may cause jams with deformed or dirty BBs.

■ Compatible Models: Tokyo Marui Gas Blowback Machine Guns
・AKX
・AKM

■ Barrel Length: 200mm

■ Inner Diameter: φ6.03mm

■ Material: Stainless Steel (SUS)
No customer comments for the moment.