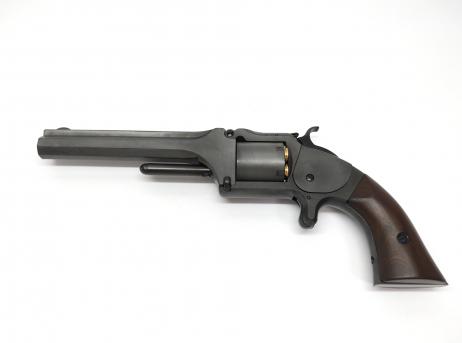 View larger
Marushin - S&W Model 2 Army "Sakamoto Ryoma's Pistol" Excellent HW (Dummy Cart Model Gun)
MSN-SWM2EXHW
Manufacturer: Marushin
Condition: New
Availability: in stock [?] Warning: Last items in stock!
Availability date:
Marushin - S&W Model 2 Army "Sakamoto Ryoma's Pistol" Excellent HW (Dummy Cart Model Gun)
More info
Data sheet
Comments
Smith & Wesson Model 2 Army Model Gun / Dummy Cartridge version

(This replica is a non functional model gun / hammer and trigger can be operated but it will not shoot firework caps)

The S&W Model 2 Army has a surprisingly small and thin design. Its mechanism is simple but precise, the small cylinder moves in conjunction with the hammer. It is a single action tip-up revolver. The barrel pivots upwards, hinged on the forward end of the topstrap. It can be identified by its octagonal barrel, smooth cylinder and the flat shape of the grip butt.
Although it does not have an ignition function (it will not shoot model gun caps), it can be loaded with 6 dummy cartridges, which contributes to an increase in weight.

The cartridge is lead-colored.

The package is in a luxurious paulownia box with cloth insole.

Cylinder can contain 6 cartridges
Overall length is 250mm
The attached grip is a dark beech wood.

The Excellent HW (Heavy Weight) model is a dark gray color with a glossy surface that is mechanically polished by molding the slide and frame with heavy weight resin containing metal powder, which is heavier than the ABS resin normally used for toy guns.
| | |
| --- | --- |
| Type | Revolver |
| Power (velocity) | Regarding the Japanese policy about airsoft guns, the muzzle energy is under 0.98 joules. Manufacturers do not provide exact velocity information. |
No customer comments for the moment.