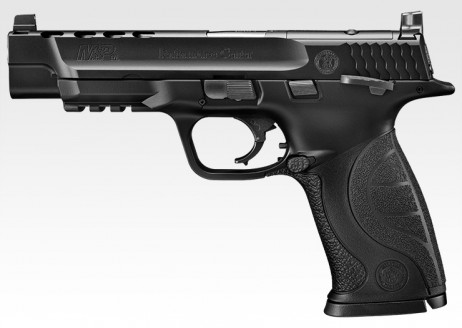 View larger
TOKYO MARUI - M&P9L PC Ported (GBB)
TM-GP-58
Manufacturer: Tokyo Marui
Condition: New
Availability: In stock [?] Warning: Last items in stock!
Availability date:
Gas BlowBack (GBB) Handgun M&P9L PC Ported
■ Adjustable Hop Up
■ Semi Auto

WHEN USING WITH GAS SOLD OUTSIDE JAPAN WE STRONGLY RECOMMEND TO CHANGE THE PISTON CUP WITH THE LAYLAX M&P9L DYNA PISTON AS THE ORIGINAL PART TENDS TO DRY
More info
Data sheet
Accessories
Comments
● Ported Barrel / Slide : The ports that refrain the gun muzzle to point upward when shooting and recoiling are replicated on this model. It features 2 CNC drilled chrome finish outer barrel ports, and a total of 8 ports on the slide.
● Micro Pro Sight Ready : The M&P9L features a cut on the slide that allows the installation of the Tokyo Marui Micro Pro Sight (not included). The cut has its own cover, held with 2 screws, that will cover the optic mount when not using any optics. The "iron sights" are tall type sights which enables to aim with the sights even if the Micro Pro Sight is screwed on.
● Trigger Stop : Tokyo Marui replicated the trigger stop piece that allows to adjust the firing point of the trigger and stop the trigger stroke(※). It is made to shorten the trigger stroke in order to get a faster trigger control and rapid firing.
※The adjustment of the trigger stop is not possible on this replica.

● Ambidextrous Slide Stop & Thumb Safety : The M&P9L is a fully ambidextrous handgun (magazine catch can be reversed).

● Backstraps (palmswell) : 3 backstraps (S/M/L size) are included with the M&P9 and gives a better gripping considering the operator's hand size.

● 2 Safeties : The M&P9L has 2 different safeties, a trigger safety and a thumb safety.

● Under Rail : The 20mm Picatinny rail allows the installation of different accessories such as tactical lights.

● Diecast Magazine : The 25rds spare magazine is made out of diecast metal and resist to low temperatures. It featires a Performance Center type bumper plate (1 extra plate is included)

TOKYO MARUI MICRO PRO SIGHT DOT NOT INCLUDED


ATTENTION : THIS REPLICA IS MADE TO USE HFC134A GAS. IT IS RECOMMENDED TO USE HFC134A GAS OR A SIMILAR GAS IN ORDER TO NOT DAMAGE THE REPLICA.
Contents
- 1 Tokyo Marui M&P9L PC Ported
- 1 Spare Magazine (25 bbs)
- 3 Backstraps (S/M/L)
- 1 Safety cap
- 1 User manual
- 1 Cleaning rod
- etc

※ Impulse101 recommends the use of HFC134A gas or a similar gas.
| | |
| --- | --- |
| Type | Automatic handgun |
| Caliber | 6mm BB |
| Shooting system | Gas / HFC134a |
| Length | 213 mm |
| Barrel length | 107 mm |
| Weight | 620 g (with empty magazine) |
| Capacity | 25 + 1 billes |
| Frame / receiver | ABS |
| Slide | ABS |
| Power (velocity) | Regarding the Japanese policy about airsoft guns, the muzzle energy is under 0.98 joules. Manufacturers do not provide exact velocity information. |