Sale!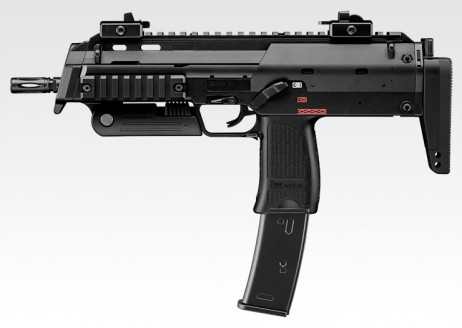 View larger
TOKYO MARUI - MP7A1 (GBB Machine Gun)
TM-GM-01
Manufacturer: Tokyo Marui
Condition: New
Availability: In stock [?] Warning: Last items in stock!
Availability date:
Gas BlowBack (GBB) Machine Gun MP7A1
■ Adjustable Hop Up
■ Full Auto / Semi Auto
More info
Data sheet
Accessories
Comments
● Powerful blowback : The MP7A1 recoil engine through it 16mm cylinder provides a great blowback recoil. Like the real thing the gas piston has a short stroke and the bolt assembly movement is reproduced. The MP7A1 provides an astonishing recoil with a low gas consumption.

● Full & Semi-auto : The MP7A1 can shoot semi or full auto. The selector lever is easy to access and it is ambidextrous. The magazine catch button is also available on both sides of the machine gun.

● Realistic gimmicks : The foregrip can be folded. and the stock slides on 4 different positions for 4 different lengths. The disassembly is also very realistic.

● 3 rails : 20mm picatinny rails on the top and on the sides of the MP7A1 allow the setting of multiple accessories such as red dots, flashlights, etc.

● Adjustable Front & Rear Sight : KSK type sights equip the MP7A1. They can be folded and adjusted.

● Hop Up : For more realism the hop up dial is hidden inside the ejection port. To make it appear the triiger must be pushed forward.

● Chargeur Diecast : The 40rds spare magazine is made out of diecast metal and resist to low temperatures. It can hold a large load of gas.

ATTENTION : THIS REPLICA IS MADE TO USE HFC134A GAS. IT IS RECOMMENDED TO USE HFC134A GAS OR A SIMILAR GAS IN ORDER TO NOT DOMMAGE THE REPLICA.
Contents
- 1 Tokyo Marui MP7A1 GBB
- 1 Spare magazine (40 bbs)
- 1 Full Auto Tracer or suppressor adapter
- 1 Safety cap
- 1 User manual
- 1 Cleaning rod
- etc
※ Impulse101 recommends the use of HFC134A gas or a similar gas.
| | |
| --- | --- |
| Type | PDW |
| Caliber | 6mm BB |
| Shooting system | Gas / HFC134a |
| Length | 381 mm (586 mm with unfolded stock) |
| Barrel length | 146 mm |
| Weight | 2200 g (empty magazine) |
| Capacity | 40 + 1 bbs |
| Frame / receiver | ABS |
| Power (velocity) | Regarding the Japanese policy about airsoft guns, the muzzle energy is under 0.98 joules. Manufacturers do not provide exact velocity information. |
No customer comments for the moment.