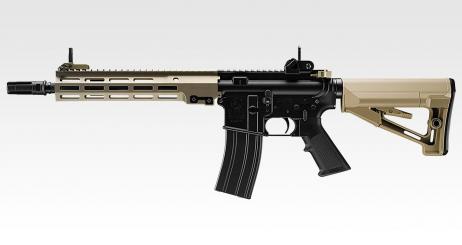 View larger
TOKYO MARUI - URG-I 11.5inch Sopmod Block3 (Real Gas Blowback Series)
TM-GBBR-11
Manufacturer: Tokyo Marui
Condition: New
Availability: In stock [?] Warning: Last items in stock!
Availability date:
Gas Blowback Rifle - URG-I 11.5inch Sopmod Block3 by Tokyo Marui
■ Adjustable Hop Up
■ Semi Auto & Full Auto
More info
Data sheet
Accessories
Comments
Powerful Blowback : The 19mm cylinder provides the MK18 MOD.1 a strong and fast blowback recoil.


Durability : Every parts of the URG-I are designed to resist to the blowback recoil. The Z-System enhanced the durability of the bolt catch, the piston absorber and the friction relief bolt roller minimize the impact of the bolt's cycle on internal parts, the barrel clamp gives more stability to the barrel and help to keep the barrel screw tightened.


Realistic Gimmicks : The various typical characteristics of the M4 are reproduced of this URG-I. The bolt handle can cock the hammer and chamber the first BB, once the magazine is empty the bolt locks backward, the bolt stop is functional, the stock can be extended on 6 positions, etc. The disassembly is also realistic.


M-LOK System : The hand guard reproduces the 10.5-inch super modular rail (SMR) MK16 M-LOK DDC, which uses the "M-LOK" rail system. M-LOK compatible rail segments with a width of 20 mm (Picatinny standard) come with one each of three types: 3 slots, 5 slots, and 7 slots. It can be easily attached and detached using the included hex wrench.


URG-I features : DD type URG-I dedicated gas block, 11.5 inch barrel, ambi charging handle etc. are also faithfully reproduced.


Adjustable Front & Rear Sights : The front sight is adjustable in height by using a small tool that is included. The rear sight can also be adjusted in height and also from right to left by turning the adjustment wheels of the rear sight.


Muzzle Options : Beneath the flash hider is 14mm anti-clockwise thread on which can be installed suppressors or other flash hiders fitting this thread.


Aluminium Diecast Magazine : The 35 rounds spare magazine is made out from diecast metal and is resistant to gas cooling. Its weight is almost the same as a real steel magazine full of bullets.
ATTENTION : THIS REPLICA IS MADE TO USE HFC134A GAS. IT IS RECOMMENDED TO USE HFC134A GAS OR A SIMILAR GAS IN ORDER TO NOT DAMAGE THE REPLICA.
Contents :
1 Tokyo Marui URG-I 11.5inch Sopmod Block3 GBBR
1 Standard magazine (35rds)
3 M-LOK rail segments(S/M/L)
1 Safety cap
1 User manual
1 BBs tube loader
1 Cleaning rod
| | |
| --- | --- |
| Type | Assault rifle |
| Caliber | 6mm BB |
| Shooting system | Gas / HFC134a |
| Length | 750 mm / 825 mm (stock fully deployed) |
| Barrel length | 250 mm |
| Weight | 2935 g (empty magazine included) |
| Capacity | 35 + 1 bbs |
| Frame / receiver | Metal |
| Power (velocity) | Regarding the Japanese policy about airsoft guns, the muzzle energy is under 0.98 joules. Manufacturers do not provide exact velocity information. |
No customer comments for the moment.