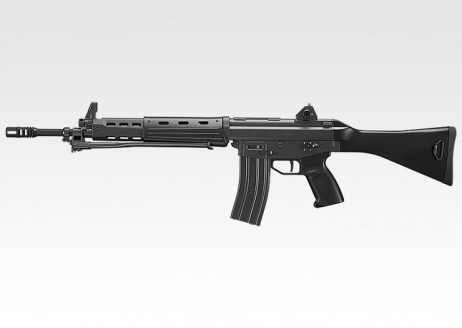 View larger
TOKYO MARUI - Type 89 5.56mm Assault Rifle - Fixed Stock (Real Gas Blowback)
TM-GBBR-04
Manufacturer: Tokyo Marui
Condition: New
Availability: available upon order [?] Warning: Last items in stock!
Availability date: 12/21/2022
Gas Blowback Rifle - Type 89 5.56mm Assault Rifle - Fixed Stock by Tokyo Marui
■ Adjustable Hop Up
■ Semi Auto / Full Auto / 3 shots Burst Mode
The Type 89 is the Japan Self-Defense Forces' standard assault rifle. This is the 4th GBB-R from Tokyo Marui. A training version for the JSDF has been released is Japan. Still very close to the original rifle this is the "survival game" version for airsoft enthusiasts. It features the ZET System for a better and reliable bolt catch.
More info
Data sheet
Accessories
Comments
● Strong Recoil : The Type 89 GBBR provides a great blowback effect when shot making this GBBR really fun to function.

● Resistant Internals : The Type 89 GBBR uses an adapted version of Tokyo Marui's Z-System that prevents internal parts from breaking when the bolt is stopped by the bolt catch piece.

● Realistic Gimmicks : All the functions and gimmicks from the original Type 89 used by the Japanese Self Defense Force (JSDF). The take down of the rifle is also really close to the real thing.

金属と樹脂を組み合わせたハンドガード:可変ホップアップシステム調整時に取り外し可能なハンドガードは、本物同様にスチールプレスと樹脂の組み合わせを再現。また、ハンドガードで覆われるガスシリンダーとアウターバレルの形状も再現性をアップしています。

ダイカスト製バイポッド付属:レバー操作でバレルに簡単に装着できるバイポッドは、本物同様に折りたたみが可能です。

調整可能なフロント/リアサイト:付属のアジャストツールでフロントサイトの上下を調整可能。またリアサイトは上下と左右をそれぞれダイヤル操作で細かく調整することができます。

各種マズルオプションに対応:銃口のフラッシュハイダーは、バレルナットで固定するダブルナット方式。フラッシュハイダーを取り外せば、サイレンサーなど14mm逆ネジ仕様のマズルオプションを取り付けることができます。

アルミダイカスト製マガジン:装弾数35発、アルミダイカスト製のマガジンは、左側面の残弾確認穴の形状を再現しています。
ATTENTION : THIS REPLICA IS MADE TO USE HFC134A GAS. IT IS RECOMMENDED TO USE HFC134A GAS OR A SIMILAR GAS IN ORDER TO NOT DAMAGE THE REPLICA.
Contents :
1 Tokyo Marui Type 89 5.56mm Assault Rifle - Fixed Stock GBBR
1 Standard magazine (35rds)
1 Safety cap
1 User manual
1 BBs tube loader
1 Cleaning rod
| | |
| --- | --- |
| Type | Assault rifle |
| Caliber | 6mm BB |
| Shooting system | Gas / HFC134a |
| Length | 916 mm |
| Barrel length | 250 mm |
| Weight | 4000 g |
| Capacity | 35 + 1 bbs |
| Frame / receiver | Metal |
| Power (velocity) | Regarding the Japanese policy about airsoft guns, the muzzle energy is under 0.98 joules. Manufacturers do not provide exact velocity information. |