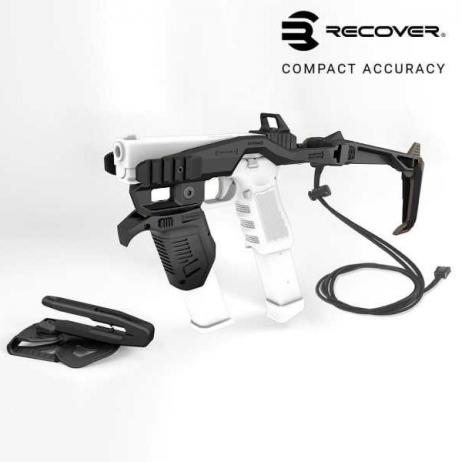 View larger
Recover Tactical - 20/20 N Stabilizer Brace Conversion Kit For Glock 17/19/etc (With Sling & Holster & Mag Holder)
RT-20/20NMG
Condition: New
Availability: in stock [?] Warning: Last items in stock!
Availability date:
Recover Tactical - 20/20 N Stabilizer Brace Conversion Kit For Glock 17/19/etc (With Sling & Holster & Mag Holder)

Color : BLACK
20/20NMG – Stabilizer Frame, Brace w/Strap, UCH & GCH17 Charging Handles (low/high profile), Minimalist Sling, Picatinny Side Rails, G7 Holster w/Pistol Adapter (Can be used without the 20/20 stabilizer brace), MG9 Angled Mag Pouch For Glock Magazines
More info
Accessories
Comments
This kit include the following parts (+ kit description):
1. Side rails with thumb rests
2. Integral holster adapter
3. Lower Picatinny rail
4. Locking screw
5. Main frame (stabilizer)
6. Charging handle (high profile)
7. Charging handle (low profile)
8. Sling attachment point
9. Cheek stopper
10. Arm brace locking push button
11. Folding arm brace
12. Unfolding arm brace lever
13. Strap
14. Minimalist sling
15. Paddle
16. G7 holster
17. Pistol holster adapter

Option part included :
- MG9 Magazine holder

The Recover 20/20 Stabilizer can fit :
- Tokyo Marui Glock17 Gen3 GBB
- Tokyo Marui Glock17 Gen4 GBB
- Tokyo Marui Glock19 Gen3 GBB
- Tokyo Marui Glock19 Gen4 GBB
- Tokyo Marui Glock22 Gen3 GBB
- Tokyo Marui Glock34 Gen3 GBB

- KSC Glock23F Gen3 GBB
- etc...

Regarding Tokyo Marui Glock18C Gen3 GBB, the 20/20 Stabilizer kit does fit. Though the fire selector can be switched to full or semi when the slide is positioned backward only. Switching from semi to full auto is easy, but it is a little bit tricky when the switch lever has to be pulled up to switch from full auto to semi auto.

For Tokyo Maui Glock18C AEP (electric version), the slide being fixed the selector switched can not be operated. The semi auto shooting mode only will be available unless the user manages to create a gap so that the selector lever can be operated.


No customer comments for the moment.