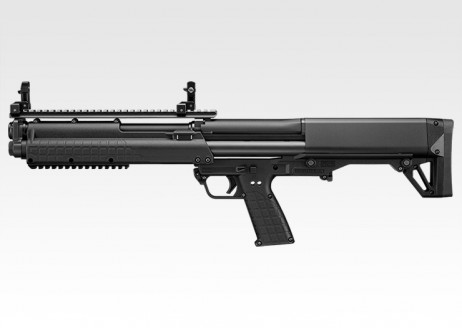 View larger
TOKYO MARUI - KSG (Gas Shotgun)
TM-GS-04
Manufacturer: Tokyo Marui
Condition: New
Availability: available upon order [?] Warning: Last items in stock!
Availability date:
Tokyo Marui KSG Gas Shotgun
■ Double Hop Up System
■ 3/6 bbs shot mode
More info
Data sheet
Accessories
Comments
● 3/6 shots selector mode : The KSG has two shooting modes, 3 bbs shot or 6 bbs shot mode. The selector is hidden behind the cheek piece / heat shield on the top of the receiver.

● Realistic parts : The outer barrel, the receiver, the rail are made out from metal for better realism and durability. The grip, the fore end and the stock of the KSG are made out from polymer material just like the real thing. Also the Tokyo Marui KSG has the exact same dimensions as the real one.

● Mount Rail : The 20mm Picatinny rails on the top of the KSG and under the pump allows the KSG to be equipped with a lot of different accessories.

● Flip Up Sight : Foldable iron sights are included zith the KSG.

● Double Hop System : The M870 has a double hop system that allows to shoot at the same time 3 or 6 bbs with the legendary Tokyo Marui shooting accuracy.

● Removable Gas Tank : The metal diecast gas tank holds low temperatures. It is stocked inside the KSG stock and can be removed and changed easily.

● Shotshell Magazine : The fake shell that the KSG uses as bb magazine can hold 30 rounds. It is similar to the one used with Tokyo Marui air cocking (spring) shotguns as the SPAS12 or M3 series. The one included with the KSG is white.

ATTENTION : THIS REPLICA IS MADE TO USE HFC134A GAS. IT IS RECOMMENDED TO USE HFC134A GAS OR A SIMILAR GAS IN ORDER TO NOT DAMAGE THE REPLICA.
Contents
- 1 Tokyo Marui KSG
- 1 Spare shot shell magazine (30 bbs)
- 1 Gas tank for KSG only
- 1 Safety cap
- 1 Sights adjustment tool
- 1 User manual
- 1 BB loader (tube)
- 1 Cleaning rod
- 1 BB bag (0.20g BBs x 100)
- etc
※ Impulse101 recommends the use of HFC134A gas or a similar gas.
| | |
| --- | --- |
| Type | Shotgun |
| Caliber | 6mm BB |
| Shooting system | Gas / HFC134a |
| Length | 663 mm |
| Barrel length | 260 mm |
| Weight | 2900 g (cartridge & gas tank included) |
| Capacity | 30 bbs |
| Frame / receiver | ABS & Metal |
| Power (velocity) | Regarding the Japanese policy about airsoft guns, the muzzle energy is under 0.98 joules. Manufacturers do not provide exact velocity information. |
No customer comments for the moment.