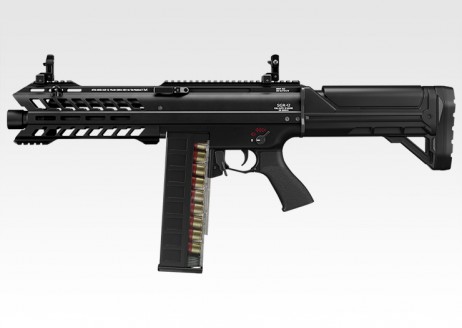 View larger
TOKYO MARUI - SGR-12 (Automatic Electric Shotgun)
TM-ST-38
Manufacturer: Tokyo Marui
Condition: New
Availability: Available upon order [?] Warning: Last items in stock!
Availability date:
The SGR-12 is the second Automatic Electric Shotgun (AES) by Tokyo Marui : 3 barrels, 3 hop-up, 30 bbs/sec.
More info
Data sheet
Accessories
Comments
SGR-12 ELECTRIC SHOTGUN : An original Tokyo Marui design.


・CNC aluminum handguard, upper receiver & rails

・The front rail uses the "M-LOK" attachment design (3, 5, 7 slots - 1 rail for each for a total of 3 rails included - spare rails will be sold separately in a near future)

・Adjustable front and rear sights

・Short magazine guide rail

・Half skeleton type magazine with visible cartridges

・Front sling adapter that can be set on both sides of the SGR-12

・TD type grip, other M4 AEG type grips can be attached

・Semi & full auto 3 shot system (3 bbs per shot)

・"3 cylinders gearbox"

・The full auto mode can shoot a maximum of 10 shots (30bbs) per second (1800bbs per minute)

・Adjustable Hop Up system (3 setting wheels for each of the 3 barrels)

・FET electronic trigger control

・"Kashima coat" nozzle guide (autolubricant technology)

・Metal inner frame

・Battery is set into the stock

・Uses Mini S battery

>>> WAITING FOR OFFICIAL DESCRIPTION (under construction)
3 Cylinders Gearbox : Tokyo Marui has developed a brand new gearbox design especially for the AA-12 (and reused on the SGR-12), a pretty unique design as it features 3 individual cylinders that allows this AES (Automatic Electric Shotgun) to shoot 3 bbs simultaneously. The pressure on the trigger will make the shot happen and reload the next 3 bbs. The nozzle guide uses a new material called Kashima Coat (made by a Japanese company) that autolubricate itself. Everything has been thought so that the electric gearbox can shoot 3 bbs at a time, even in full auto mode, the smoothest possible.

Full & Semi Auto : The Tokyo Marui SGR-12 can shoot semi and full auto mode.

FET : In order to prevent electric damage the SGR-12 is equipped with a FET that controls the electric current when shooting. It allows a better response from the trigger and helps the 3 BBs shooting system to cycle correctly.

3 Hop Up Chambers : The SGR-12 has 3 individual hop chambers (one for each 3 inner barrels) that can be adjusted through the setting wheels hidden behind the ejection port. This new system allows to widen the bbs' trajectory.

Adjustable Sights : Front and rear sights can be adjusted.

Box Type Magazine : A 93rds spare magazine is included. It is checked oin the outside for a better grip when reloading and also allows to hold the AA-12 with the weak hand on the magazine.
ATTENTION : THIS REPLICA USES A MINI S BATTERY NOT INCLUDED.
※ Impulse101 recommends the use of genuine Tokyo Marui Mini S Battery 8.4V Nimh 1300mAh (sold separately)
Contents :
1 Tokyo Marui SGR-12
1 Standard magazine (93 rds)
1 Safety cap
1 User manual
1 BB loader tube
1 Cleaning rod
| | |
| --- | --- |
| Type | Automatic Shotgun |
| Caliber | 6mm BB |
| Shooting system | Electric / MINI S Battery |
| Length | 730 mm |
| Barrel length | 270 mm |
| Weight | 4400 g |
| Capacity | 96 rounds |
| Gearbox (mechabox) | AES Gearbox |
| Frame / receiver | CNC Aluminum & ABS with metal inner frame |
| Power (velocity) | Regarding the Japanese policy about airsoft guns, the muzzle energy is under 0.98 joules. Manufacturers do not provide exact velocity information. |
No customer comments for the moment.