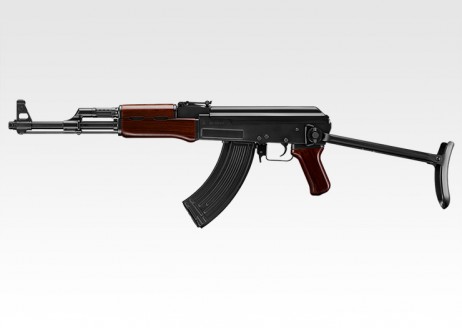 View larger
TOKYO MARUI - AKS47 Type 3 (Next Generation)
TM-NG-27
Manufacturer: Tokyo Marui
Condition: New
Availability: PREORDER [?] Warning: Last items in stock!
Availability date: 04/22/2019
Automatic Electric Gun (AEG) AKS47 Type 3 Next Gen
■ Shoot & Recoil System
■ Auto Stop System
■ Adjustable Hop Up
■ Full / Semi Auto
More info
Data sheet
Accessories
Comments
● Shoot & Recoil Engine : The AKS47 Type 3 "recoil shock" system provides a recoil and imitates the bolt movement every shots. The air gun is equipped with a system that stops the shooting once the magazine is empty to increase reality and functions of the replica.

● Bolt Release System : Once the magazine is empty the AKS47 Type 3 will stop shooting. The shooter will need to put a new magazine full of BBs and rack the bolt in order to allow the gun to shoot again, action that increases the realism of the replica.

● Metal Parts : The lower receiver and other parts are made from die cast metal or stamped steel.

● Surface Finish : The lower receiver has been coated with "defric coat" that mimics the bluing of original AKs body. The handguard and the stock have a evry realistic wood like finish.

● Adjustable Front & Rear Sight : The front sight can be adjusted in height and from right to left using a tool that is included. The rear sight is also adjustable in height like every other AKs.

● Muzzle : The muzzle protection piece is attached to a 14mm CCW thread on which can be attached a silencer.

● Stamped steel magazine : A 90 rounds stamped steel magazine is included with the AKS47 Type 3 (magazine that allows the auto-stop system / the AK74 type magazine are not compatible)

● Magazine Adaptor : A magazine adaptor that allows the use of Tokyo Marui standard AEG AKS47 magazines is included. Nevertheless the use of such magazines will not make the auto-stop system function.


ATTENTION : THIS REPLICA USES A MINI-S BATTERY (NOT INCLUDED)
Contents
- 1 Tokyo Marui AKS47 Type3
- 1 Standard magazine (90 rds)
- 1 Standard AK AEG magazine adaptor (to fit AK47 standard AEG magazines)
- 1 Safety cap
- 1 User manual
- 1 BB loader tube
- 1 Cleaning rod
- etc
※ Impulse101 recommends the use of genuine Tokyo Marui MINI-S battery 8.4V Nimh1300mAh (sold separately)
| | |
| --- | --- |
| Type | Assault rifle |
| Caliber | 6mm BB |
| Shooting system | Electric / MINI S Battery |
| Length | 643 mm / 888 mm (when stock unfolded) |
| Barrel length | 300 mm |
| Weight | 3,300 g (with battery and magazine) |
| Capacity | 90 bbs |
| Frame / receiver | Metal |
| Power (velocity) | Regarding the Japanese policy about airsoft guns, the muzzle energy is under 0.98 joules. Manufacturers do not provide exact velocity information. |
No customer comments for the moment.