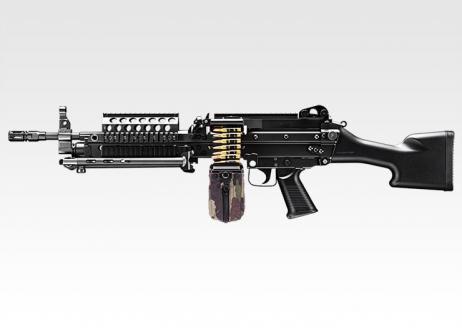 View larger
TOKYO MARUI - Mk46 Mod.0 Light Machine Gun (Next Generation)
TM-NG-28
Manufacturer: Tokyo Marui
Condition: New
Availability: In stock [?] Warning: Last items in stock!
Availability date:
PREORDER NOW !

TOKYO MARUI - Mk46 Mod.0 Light Machine Gun (Next Generation)

Automatic Electric Gun (AEG) Mk46 Mod.0 Light Machine Gun Next Gen
■ Shoot & Recoil System
■ Auto Stop System
■ Adjustable Hop Up
■ Full / Semi Auto
More info
Data sheet
Accessories
Comments
The Mk46 is a lighter version of the well know light machine gun FN M249 Minimi.
● Shoot & Recoil System : The "recoil shock" system provides a recoil and imitates the bolt action every shots. The Mk46 is equipped with a system that stops the shooting once the magazine is empty to increase reality and functions of the replica.

● Belt Link Gimmick : A fake cartridge belt comes out from the box magazine and an be set once the uper cover of the Mk46 is open, just like the real thing. The belt will vibrate during shooting imitating the belt feeding of the machine gun.
● Removable Barrel : In order to set the battery the operator has to remove the barrel. The removable outer barrel allows an easy access to the inner barrel which is a two part barrel. The second pat of the inner barrel and the hop up chamber will remain inside the Mk46.

● Adjustable Sights : The rear sight is adjustable the same was as the real Mk46 (left/right & up/down). The front sight is also adjustable in elevation.

● FET System : The FET allows to protect the switch from heavy use. It also refrains the replica from shooting when the barrel is disassembled, when the top cover is opened, when magazine is empty and when battery is low.

● Accessories : Realistic bipod is included. The Mk46 is delivered in a tough nylon carrying case with 2 originals patches.

● Muzzle Options : The flash hider is attached to a 14mm CCW thread on which can be attached a silencer.

● Box Type Magazine : A 1000 rounds box magazine is included with the Mk46. The BBs are electrically fed into the replica.
ATTENTION : THIS REPLICA USES AN AK TYPE STICK BATTERY (NOT INCLUDED).
Contents
- 1 Tokyo Marui Mk46 Mod.0 Light Machine Gun
- 1 Box magazine (1000 rds)
- 1 Safety cap
- 1 Sight adjustment tool
- 1 User manual
- 1 BB loader tube
- 1 Cleaning rod
- etc
※ Impulse101 recommends the use of genuine Tokyo Marui AK Type stick battery 8.4V Nimh1300mAh (sold separately)
| | |
| --- | --- |
| Type | Light Machine Gun (LMG) |
| Caliber | 6mm BB |
| Shooting system | Electric / AK Type "stick" battery |
| Length | 920 mm |
| Barrel length | 326 mm |
| Weight | 6350 g (with battery & empty magazine) |
| Capacity | 1000 bbs |
| Gearbox (mechabox) | New Version (Next Gen Gearbox - Mk46 Mod.0 type) |
| Frame / receiver | Metal |
| Power (velocity) | Regarding the Japanese policy about airsoft guns, the muzzle energy is under 0.98 joules. Manufacturers do not provide exact velocity information. |
No customer comments for the moment.