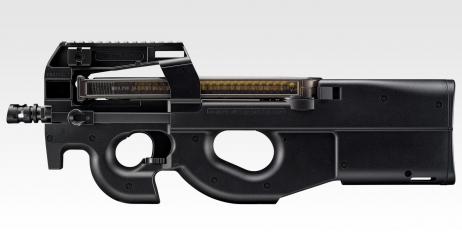 View larger
TOKYO MARUI - P90 Plus (Standard Type)
TM-ST-24Plus
Manufacturer: Tokyo Marui
Condition: New
Availability: available upon order [?] Warning: Last items in stock!
Availability date:
Automatic Electric Gun (AEG) P90+ (Plus)
■ Adjustable Hop Up
■ Full / Semi Auto
The "P-90 Plus" is compatible with MS Li-Po batteries (and standard NIMH batteries "MINI type", equipped with the FET circuit "PLUS system", is now available as the first electric gun plus series!
The specially developed PLUS system (= FET circuit) achieves high safety and improved trigger response during semi-automatic firing.
Based on the electric gun standard type P-90 series model, it has been upgraded to a model with a higher level of operability.
More info
Data sheet
Accessories
Comments
● Equipped with FETs : Equipped with a switch that combines mechanical and FET. Compared to a mechanical switch, the current loss generated at the contact is reduced, and the response from pulling the trigger to firing the BB bullet is improved. In addition, the durability of the switch part is also improved.

● PLUS system : Developed the "PLUS system" in which a microcomputer (MCU = microcontroller unit) comprehensively monitors and controls FETs, batteries, and motors. In addition to controlling the rotation of the motor, it is a system that also has safety, such as detecting damage and abnormalities in various parts and stopping operation.

● Black finish : The receiver uses a black paint that suppresses gloss. The texture has increased, and it has a finish that feels heavy.

● Reproduce unique structure : It can be disassembled into three parts: the engine part covered with a grip-integrated stock, the sight receiver and unitized barrel, and the magazine. Reproduced the same takedown as the real thing.

● Realistic selector mechanism : You can operate the selector as it is with the finger that pulls the trigger, and you can switch the firing mode without breaking the stance. Also, if the selector is in the full auto position, it is possible to switch between semi-auto and full auto by pulling the trigger.

● Triple rail : Equipped with 3 mounting rails on the sight receiver. Optional parts such as dot sights and flashlights that support 20mm wide mounting rails can be set.

● Compatible with various muzzle options : If you remove the new aluminum flash hider, you can install muzzle options such as a silencer with a 14mm reverse screw specification.

● Realistic see-through magazine : A translucent magazine with 68 bullets and 5.7mm x 28 dummy cartridges inside is included.
ATTENTION : THIS REPLICA USES A BATTERY (MINI S) NOT INCLUDED.
Contents
- 1 Tokyo Marui P90 "PLUS"
- 1 Standard magazine (68 rds)
- 1 Safety cap
- 1 Sight adjustment tool
- 1 Hex wrench
- 1 User manual
- 1 BB loader tube
- 1 Cleaning rod
- etc
※ Impulse101 recommends the use of genuine Tokyo Marui MINI S Battery 8.4V NiMH 1300mAh (sold separately)
| | |
| --- | --- |
| Type | SMG |
| Caliber | 6mm BB |
| Shooting system | Electric / MINI S Battery |
| Length | 505 mm |
| Barrel length | 247 mm |
| Weight | 2,200 g (with battery & empty magazine) |
| Capacity | 68 rds |
| Gearbox (mechabox) | Version 6 (standard gearbox) |
| Frame / receiver | ABS |
| Power (velocity) | Regarding the Japanese policy about airsoft guns, the muzzle energy is under 0.98 joules. Manufacturers do not provide exact velocity information. |
No customer comments for the moment.